Catch up with Part 1 and Part 2.
Brazil's Belli Studio (Boris and Rufus) is whipping up another taste addition to the local animation sector — which has grown 18% in the last seven years, according to organizations ANCINE and BRAVI. Debuting at Kidscreen Miami, Tuca the Master Cook tells the story of a young boy with a passion for cooking and the many adventures he embarks upon with his family and friends. Produced in Portuguese and Spanish, the series spotlights important social lessons like respecting each other's differences. Anime distributor Sato Company is co-producing.
DreamWorks Television Animation's second season of The Epic Tales of Captain Underpants has launched on Netflix streaming. From Peabody Award and Emmy-winning executive producer Peter Hastings, the Annie-nominated series is based on the epic novels by Dav Pilkey)more than 80 million copies sold). Featuring the voices of Sean Astin (Stranger Things) as narrator, Nat Faxon (Ben and Kate) as Captain Underpants/Mr. Krupp, Jay Gragnani (Bubble Guppies) as George Beard and Ramone Hamilton (Will & Grace) as Harold Hutchins, S2 sees George and Harold trying to keep their grades up so they can go to summer camp — but with Principal Krupp sent away will they come out on top in a school run by Melvin and a Cyborg Melvin from the future?
Check out new clips and some sweet DreamWorks series-themed Valentine's Day downloadables to celebrate! Clip 1: "Mission Improbable"; Clip 2: "Chattin Pants"; Clip 3: "Hive School"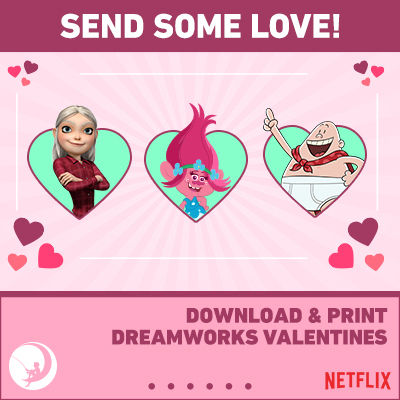 BAFTA-nominated preschool learning & entertainment service Hopster has partnered with U.K.-based education charity Diversity Role Models to create short-form animated films that spotlight different types of families and teach kids about challenging stereotypes and valuing acceptance. Hopster has found that LGBT+ families are underrepresented in preschool TV and decided to create original shows to fill that gap and further DRM's mission of inclusion and empathy. Scheduled to launch in June 2019, the new programming slate will include short form animations, songs and video books all aimed to promote inclusion amongst preschoolers.
Miki Chojnacka, Chief Creative and Content Officer at Hopster, said: "Our mission at Hopster is to celebrate differences and challenge gender stereotypes, all in line with the U.K. Early Years Foundation Stage (EYFS) curriculum. We know that every child is unique and different and so are their families. Right now, a child growing up with same-sex parents would never see their family represented on screen. We wanted to change that, and we're delighted that Diversity Role Models have partnered with us to make it happen."
Adam McCann, CEO at Diversity Role Models, said: "We are all different and no young person should feel they are less equal because of who they are or the family they have. We help young people learn how to embrace, accept and support difference. The synergies between our organisations and Hopster's commitment to positive and inclusive educational content make this a natural partnership. We're excited for the opportunity to amplify the voices and stories of our LGBT+ role models to a community of young people who we cannot reach with our classroom based workshops."
Kids First is bringing a Japanese icon back to TV screens with The World of Hello Kitty (52 x 11'), set to debut in Q1 2021. The series follows Hello Kitty and her friends in their not-so-quiet neighborhood. They each have their own little quirks, so their tight-knit community is often put to the test, but with love and acceptance they always come back together. The series is being produced by Paris-based Monello Productions (Tetra Media Studio) and Watch Next Media in partnership with the character's creator Sanrio. Kids First will handle worldwide financing and distribution outside Asia, where ABC International will take care of it.
"This year marks Hello Kitty's 45th anniversary. We're also extremely pleased to announce that this year will mark another important milestone: Hello Kitty's TV animation series debut in Europe," said Sanrio Senior Managing Director Kazuyoshi Fukushima.
ABC International Managing Director Shusaku Inoue said: "We are proud of having created the bond between Sanrio and Kids First to make this great project happen."
Kids First President Philippe Alessandri said: "We are excited by this unique opportunity to create an animation series based on one of the most famous, endearing and inspiring characters all over the world."
Nelvana (Corus Entertainment's animation studio) is developing a 2D/3D hybrid action-adventure series for boys 6-8 titled Geki Drive, with Japan-based global trading co. Sumitomo Corporation. Based on the customizable model cars produced by Bandai Spirits, the series follows a team of young racers called the Pod Squad as they race their way through the Geki Circuit, facing tougher and tougher challenges that face them to rely on their instincts, skills and each other.
Iehisa "Ike" Nakamura, Executive Officer and General Manager of Sumitomo's media division, said: "We are excited to co-develop world-class anime and exceptional children's content together with Nelvana. Our aim is to provide a new, unique, exciting and entertaining experience to children across the globe."
Rovio Entertainment is adapting it's live-action plushy shorts series Angry Birds on the Run into a longer form special to be distributed by CAKE, which kicks off sales at Kidscreen. The series is available as 22 x 2'30", while the special can be portioned as 2 x 25' or 4 x 12'. The shorts debuted in November 2018 on the Angry Birds YouTube Channel, attracting over four million combined views and an average 95% positive response to date. In it, Red, Chuck and Bomb launch out of their game and into the human world, a strange place where nothing makes sense and bizarre obstacles must be overcome on their epic mission to get home. Angry Birds on the Run is developed and produced by Rovio in association with CAKE's Popcorn Digital and BAFTA-nominated Blink Industries (Don't Hug Me I'm Scared); directed and written by Baker Terry (DHMIS, Waiting for Gumball).
Joe Lawson, SVP of Content Licensing for Rovio and series exec producer, said: "It was extremely gratifying to work with truly unique talent like Baker Terry and the team at Blink who took our crazy idea of plush toys getting lost in the real world and made it into something unexpected, hilarious and special for our fans. And the success of the series speaks volumes to not just the appeal of these characters, but to the incredible stretch of the Angry Bird universe that we can experiment with storytelling in such a unique way and have fans react so positively."
Terry, who also wrote original songs for the series and voices Bomb, said: "Angry Birds on the Run is a celebration of the fans who have been making their own weird and hilarious YouTube content with their favorite characters and games from the franchise for the past 10 years. We wanted to keep the original charm of those fan-made videos, and Blink Industries has done a terrific job elevating the genre with outstanding visual and sound effects while still honoring that homemade tradition. It's been a joy working with Rovio to create something that is pure fan service."
Ed Galton, CCO & Managing Director at CAKE said: "The winning combination of Rovio, Blink and Popcorn Digital has succeeded in creating a unique, imaginative and hilarious take on the Angry Birds tale. The series makes a great addition to the Angry Birds slate and we are looking forward to continuing to build on that success by bringing the show to multiple platforms and audiences around the world."
Skyship Entertainment announced a new 2D animated series for children ages 4+, Captain Seasalt and the ABC Pirates (26 x 5'-6'), set to launch on the company's Super Simple TV YouTube channel on Monday, March 4. The show follows the adventures of Captain Seasalt and his band of curious shipmates as they explore the 26 islands of the Alphabet Archipelago in search of phonetic treasure, learning teamwork and problem solving skills during their vocabulary-building adventure. Real kids bring the colorful crew to life as part of the voice cast that features Mackenzie De Zilva as Maya, Gabriela Francis as Ellie, Leo
Orgil as Sammy, and Simon Pirso as Pedro; Hayden Finkelshtain stars as Captain Seasalt and the crew's devoted dog, Pepper. Executive produced by Troy McDonald, Devon Thagard, Brett Jubinville and Morghan Fortier; written by Kathryn Durst, Pammy Salmon and Steve Shanahan.
"Over the years, we've produced a lot of great early fundamental alphabet content. With Captain Seasalt and the ABC Pirates we wanted to do something a bit more advanced and wrap it in a fun and exciting narrative to keep older kids entertained," said Devon Thagard, Co-Owner of Skyship Entertainment.
"Working with real kids we were able to bring a very genuine energy to the show, in the same way that the old Peanuts cartoons had, and that was the vibe we were aiming for," added Brett Jubinville, Skyship's Head of Production and series co-creator.